Rugby's Going Well
In the 6 Nations, it looks like it's out of 3 teams at the moment; Wales, France and Ireland. They've all won the first two matches, with France really looking like they had alot of luck in both to be fair. In my honest and non-biast welsh opinion, it's out of Wales and Ireland, which as far as I'm aware is one of the last matches in the tournament too. I'm gonna be drunk that day :)
Anyhows, tis Valentine's Day today, good lordie, and I'm not expecting any kind of cards at all (well except for the card the wife gave me, but that doesn't count really). Knowing my luck, the only card I'd get is one from an inmate called "Bottle Neck Edwards" with a tattoo of Jeccius on his arm ffs. Although I'm making this clear now that I'm not requesting any cards or e-cards from anyone whatsoever (let's see if reverse psychology will get the birds). I never got a Valentine's card in school, which is just as well as I went to an all male's school for five years. One of the teachers winking at you as you open the card, uuurrrgggh.
Do Old People Love Valentine's Day? Do they know it's Valentine's Day? Who knows.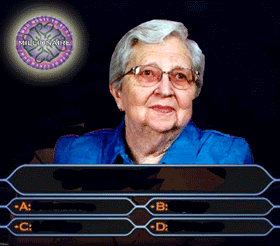 Father Ted
used to deal with old people very comically, and included them in some awesome jokes, even if they weren't anything to do with mainstream Father Ted either; like this famous Quiz Presenter on TV doing a quiz show the telly with three granny contestants;
Host
- "First question, what is the capitol of England?"
Granny 1 snores, granny 2 looks confused, and granny 3 presses the button.
Host
- "Yes?"
Granny 3
- "Oh sorry about that, I leaned on the button."
Host
- "I've give you a clue, you all live there."
Granny 2 presses the button.
Host
-"Yes Agnes?"
Granny 2
- "Aren't you the man off the television?"
Grannies are amazing. We should be able to train them like Pokemon and battle it out in the Olympics, we really should :D
Completely off on a tangent, I can't believe
http://www.cotton.com
has got nothing to do with Eastenders; the BBC missed an oppertunity there. They could've made a mint guv.